My radio-controlled model.

Preparing to run…

…off we go! The permanent 4WD transmission assures perfect control even under extreme conditions. Just look the deep circles in the snow!
The wheels are spinning without break…
… and the suspensions adapt the wheels that launch the snow high above the spoiler.
Mitsubishi Space Runner 4x4 vs. Thunder Tiger Racing Challenger Pro. The large slick-tyres stick the little model on the asphalt.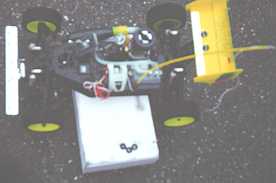 Refuel, warm up and regulate the fuel screw (on the left of the air filter) before the race.
The temporary aluminum bumper protects better the frontal system than the original one.